丝绸邮票珍藏册《龙文化》
栏目:邮票知识 时间:2011年12月21日13:51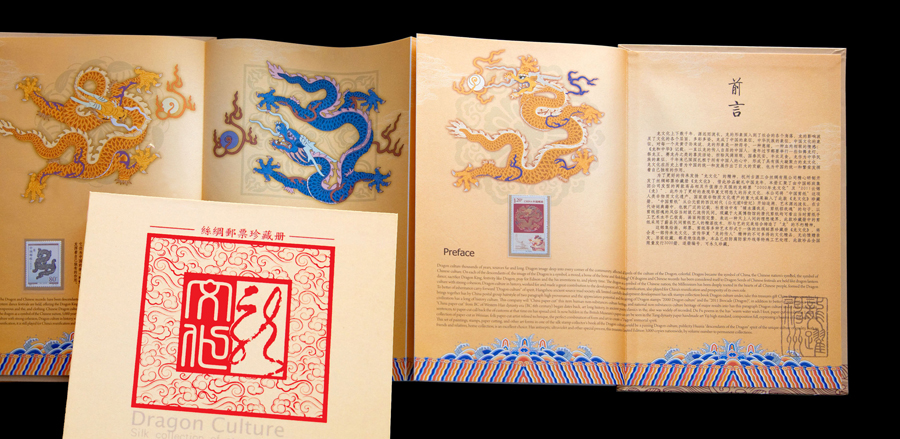 真丝书册九龙文化
  龙文化上下数千年,源远而流长。龙的形象深入到了社会的各个角落,龙的影响波及了文化的各个层面,多彩多姿。龙成了中国的象征、中华民族的象征、中国文化的象征。对每一个炎黄子孙来说,龙的形象是一种符号、一种意绪、一种血肉相联的情感!《龙和中华》记载:一直以龙的传人自居的中国人,逢年过节都要举行一些如舞龙灯、祭龙王、赛龙舟之类的喜庆活动,祈盼风调雨顺、国泰民安、丰衣足食。龙作为中华民族的象征,千年来已深深扎根于所有中国人的心中,形成了具有强大凝聚力的龙文化,龙文化在历史上曾为中国的统一和发展作出了巨大的贡献,也为中国的统一和繁荣发挥着自己独有的作用。

  为了更好的传承发扬"龙文化"的精神,杭州古源三合丝绸有限公司精心研制开发了丝绸邮票珍藏册《龙文化》,借此珍品献礼中国龙年,本册汇聚了由中国邮政集团公司发型的两款高品相及升值潜力及强的龙邮票"2000年龙文化"及"2011云锦(龙)",此外为了更好的表现华夏文明悠久的历史文化。本公司将"中国剪纸"这项人类非物质文化遗产、国家级非物质文化遗产的重大成果融入了此款《龙文化》珍藏册,"中国剪纸"从公元前的西汉时代(公元前6世纪)开始追溯,艺术源远流长,在古代诗词典籍中,也被广泛的记载,杜甫诗中有"暖水濯我足,剪纸招我魂"的句子,以剪纸招魂的风俗当时就已流传民间。现藏于大英博物馆的唐代剪纸均可看出当时剪纸手工艺术水平已极高,画面构图完整,表达一种天上人间的理想境界。此款珍藏册中的剪纸采用了蔚县民间剪纸艺人的精湛技术,形与艺的完美结合缔造了"龙"的不朽精神。

  这部集绘画、邮票、剪纸等多种艺术形式于一体的丝绸邮票珍藏册《龙文化》,将会是一部传承龙文化、宣传华夏"龙的传人"精神的不可多得的文化精品,无论馈赠亲友、居家收藏,都是绝佳选择。本品已经防腐防紫外线等特殊工艺处理,此款珍品全国限量发行3000册,逐册编号,可永久珍藏。

  Dragon culture thousands of years, sources far and long. Dragon image deep into every corner of the community, affected all levels of the culture of the Dragon, colorful. Dragon became the symbol of China, the Chinese nation"s symbol, the symbol of Chinese culture. On each of the descendants of, the image of the Dragon is a symbol, a mood, a bone of the bone and flesh feeling! Of dragons and Chinese records: has been considered itself to Dragon Seeds of Chinese festivals are held like dragon lantern dance, sacrifice Dragon King, festivity like Dragon, pray for Edison and the his inventions to, and plenty time. The dragon as a symbol of the Chinese nation, the Millennium has been deeply rooted in the hearts of all Chinese people, formed the Dragon culture with strong cohesion, Dragon culture in history, worked for and made a great contribution to the development of China"s reunification, also played for China"s reunification and prosperity of its own role.

  To better of inheritance carry forward "Dragon culture" of spirit, Hangzhou ancient source triad society silk limited carefully development development has silk stamps collection book Dragon culture under, take this treasures gift China Dragon, notebooks brings together has by China postal group hairstyle of two graph high provenance and the appreciation potential and the strong of Dragon stamps "2000 Dragon culture" and the "2011 Brocade (Dragon)", in addition to better of performance Huaxia civilization has a long of history culture. This company will "China paper-cut" this item human non-substances culture heritage, and national non-substances culture heritage of major results into has this graph Dragon culture under collection book, "China paper-cut" from BC of Western Han dynasty era (BC 6th century) began dates back, art long history, in ancient poetry classics in the, also was widely of recorded, Du Fu poems in the has "warm water wash I foot, paper-cut enrollment I soul" of sentences, to paper-cut call back the of customs at that time on has spread civil. Is now hidden in the British Museum"s paper-cut can be seen in the Tang dynasty paper handmade art Yiji high standard, composition full, expressing a heaven of ideal realm. This collection of paper-cut in Weixian folk paper-cut artist refined technique, the perfect combination of form and art to create a "Dragon" immortal spirit.

  This set of paintings, stamps, paper cutting, and other art forms in one of the silk stamp collector"s book of the Dragon culture, would be a passing Dragon culture, publicity Huaxia "descendants of the Dragon" spirit of the unique culture of quality, both to friends and relatives, home collection, is an excellent choice. Has antiseptic ultraviolet and other special process, this treasures Limited Edition 3,000 copies nationwide, by volume number to permanent collections.
来源:Sohu.com 作者:Sohu.com